Warning
: preg_match_all(): Compilation failed: invalid range in character class at offset 7 in
/homepages/23/d339537987/htdocs/ec/wp-content/themes/p2/inc/mentions.php
on line
77
As a leader, you want to think that your team would never turn on you, but it does happen—even to the most confident and competent of leaders. Maybe drama from another part of the organization has spread, or a charismatic team member has developed a grudge against your leadership, or you've inherited (or unwittingly created) a bad situation. Whatever the reason, it's both discouraging and demoralizing when you find yourself with your team in mutiny—refusing to do what you ask, or going in their own direction, or excluding you from things you need to know and decide.
The way you respond in such a situation is critical. Here are the steps you can take to regain your team's trust and commitment:
Acknowledge the problem. The first step can be the hardest—you have to get it out there. If you don't address what's happening, it will only get worse. Talk to your team as soon as possible. Be open, direct, and vulnerable. Opening up lines of honest communication is the first step in restoring your leadership.
Work to understand the source. Try to get the clearest and most complete understanding possible of what caused the problem in the first place. Ask questions of your team to get to the root of the issue. Even if it's uncomfortable, you want to find the source of the breakdown.
Encourage people to express themselves. Allow people to air their grievances and let them speak their mind. With respect and without judgment, open up a space for expression. Tell people to come to you if they have a problem with you, then demonstrate your willingness to listen and deal with the issues. This foundation will help in solving the current problem and will also prevent recurrences.
Take ownership. This step may be difficult, especially if you honestly believe you haven't done anything wrong, but if enough people are telling you there's a problem with how you lead, communicate or work, you need to take ownership. As I always tell my clients: what you don't own owns you. This step is a big one in reclaiming your leadership. One of the hallmarks of great leaders is the ability to take feedback as a gift and take ownership of their mishaps, so consider it a time of learning and growth rather than punishment.
Ask for help. This step is another one that may be difficult, because too many of us feel asking for help is a sign of weakness. But in fact the opposite is true: when you ask for help, you're demonstrating that you have strength to find and use every possible resource to reach your goal.
Work on a solution. The biggest problems can have the best solutions. Work on solving the issue by addressing it head-on. Make a plan for implementing change and let people know they've been heard. The best leaders treat problems as opportunities to do things better the second time around.
Hire a coach. Connect with a coach or consultant who can help you navigate your way back to calmer waters. Working with a coach will show your team that you're taking their feedback seriously, that you're addressing your weaknesses and committed to doing better. It can also help you understand your leadership style and the disconnect with your team.
Lead from within: If your team turns against you, turn back toward them to help improve the situation for everyone.
---
N A T I O N A L  B E S T S E L L E R
The Leadership Gap: What Gets Between You and Your Greatness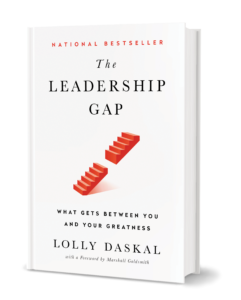 After decades of coaching powerful executives around the world, Lolly Daskal has observed that leaders rise to their positions relying on a specific set of values and traits. But in time, every executive reaches a point when their performance suffers and failure persists. Very few understand why or how to prevent it.
---
Additional Reading you might enjoy:

Photo Credit: iStockPhotos
The post What Happens When Your Team Turns On You appeared first on Lolly Daskal.