Warning
: preg_match_all(): Compilation failed: invalid range in character class at offset 7 in
/homepages/23/d339537987/htdocs/ec/wp-content/themes/p2/inc/mentions.php
on line
77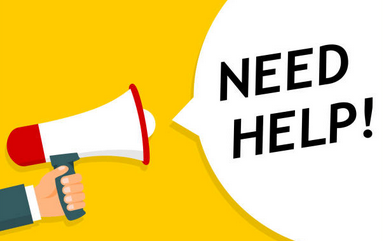 I am not sure how it began, but there is a definite belief among many people that asking for help is a sign of weakness. In my work as a leadership coach, I see it again and again in all kinds of organizations, companies and teams: very smart people need help but don't ask for it, and their refusal ends up keeping them from being as productive and effective as they could be otherwise.
If you're reluctant to let anyone know you need assistance—whether it's because of pride, fear of being judged or just not wanting to draw attention to yourself—it's time to get over it. Here are some things to keep in mind when you're learning to ask for help:
Demonstrate you've tried. When you encounter a roadblock, try to get around it by yourself before reaching out. People are more inclined to help those who have tried to help themselves first. Explain what you've tried on your own and what went wrong before asking for advice.
Seek collaboration. Once you're ready to ask for help, propose it as a partnership between you and your helper. You don't want to dump everything on them but to put your heads together to look for solutions as a team. Let them know you're willing to do your part.
Be specific. Make sure the person you're asking knows how they can be most valuable to you. Tell them exactly what kind of help you need, and why, to make sure the assistance you get is what you actually need.
Stay engaged. It's important to stay engaged with the person who's helping you. Learn from them, watch them, listen to them—ask questions and take notes. If you pay close attention to how your colleague is handling the problem, you should be able to tackle it on your own in the future. You'll even be able to help the next person who faces the same issue.
Know that most people enjoy helping. If you're scared to approach someone to ask for help, remember that most people love to help others. In return, make sure you let them know that their assistance will have a meaningful impact. People like to know their actions matter.
Ask privately, praise publicly. The best way to ask for help is do it privately. Pick one or two people you think are best suited to help you. Ask for what you need—don't forget to be specific—and when you've cleared the hurdle, praise them publicly for the help they've given you.
Give help to get help. When the time comes to ask for help, you'll have a big point in your favor if you have a reputation of being someone who's willing to give help. When your turn comes to ask, you'll know how good it feels to give. And when your turn comes to help, you'll know what a relief it is to the person in need.
The next time you find yourself needing help, remember that how you ask is almost as important as what you ask, that people are willing to give much more often than not, and that there's no better way to reward them than by letting them know, in public, how important their help was.
Lead from within: Asking for help isn't easy, but it is necessary if you want to be as effective and productive as you know you can be.
---
#1  N A T I O N A L   B E S T S E L L E R

The Leadership Gap: What Gets Between You and Your Greatness


After decades of coaching powerful executives around the world, Lolly Daskal has observed that leaders rise to their positions relying on a specific set of values and traits. But in time, every executive reaches a point when their performance suffers and failure persists. Very few understand why or how to prevent it.
---
Additional Reading you might enjoy:

Photo Credit: iStockPhotos
The post How to Ask for Help When You Need It appeared first on Lolly Daskal.