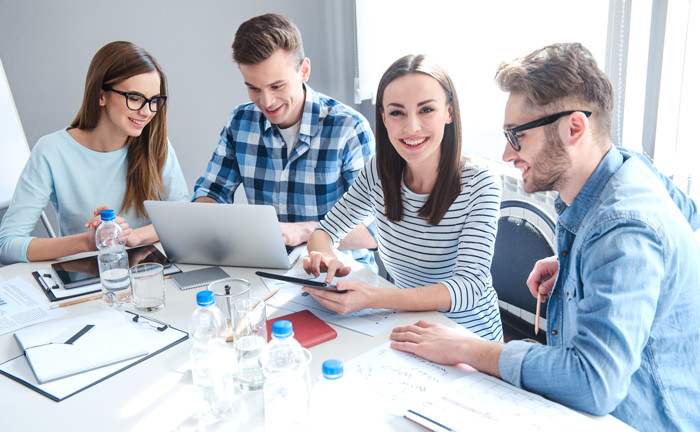 It's important that companies take into account workforce demographics, so they can effectively manage and utilize their talents for future growth. By 2020, 46 percent of your employees will be millennials. This new generation of workers are similar to older generations, as they desire adequate compensation, growth opportunities and challenging work.
However, there are other factors that Millennials take into consideration when committing to a new job, including:
Wanting to make a difference in the community
Attaining a proper work-life balance
Ensuring team building opportunities
Having a creative work environment
Here's a list of tips for how to keep your millennial employees engaged in their work and committed to your company:
Making a Difference
When making job-related decisions, millennials take into consideration how a company engages with the community and embraces civic and social responsibilities. These younger employees want to be proud of their company's presence and altruistic aspirations. As such, your company should invest time and resources into local charities, where employees can see the results of the investment.
It's also beneficial if you set up volunteer opportunities — within the company or around the community — so employees can feel more involved. Whenever possible, make sure your company is undertaking socially- and environmentally-responsible practices — from the provision of health and wellness accommodations for employees to using sustainable, environmentally-friendly materials within the office.
Work-Life Balance
Today, more and more millennials demand a proper work-life balance. After all, most employees tend to be more productive — and create higher-quality work in a shorter amount of time — if they're not putting in endless hours in the office. Make sure your employees have an adequate amount of vacation, and create policies to limit after-hours work and communication that can disrupt employees' time away from the office.
Your employees would also benefit from working remotely, either entirely or a few days a week. With effective management technology — like Aspect's Workforce Management Software — you can give your millennial employees more mobility and flexibility within their work. This management software also helps supervisors communicate with employees and quickly transmit schedule information through its mobile app platform.
Team Building
Millennial employees will invest more in their company if they, too, feel a sense of investment. Bolster the effectiveness of your company's collaborative efforts through team-building opportunities. And, make some intentional moves of setting up these activities outside of work. You can organize weekend activities that appeal to your employees, such as outdoor recreation, art classes, or local festivals or events.
Expensing these activities is an investment that will increase your employees' dedication to work and ability to work well with one another. If your company doesn't have a large enough budget for these team-building activities, holding annual holiday parties is another one-off expense you could implement for increased workplace satisfaction.
Work Environment
Work environment is key when it comes to employee motivation and job satisfaction. Large tech companies — like Google, Facebook and Amazon — provide workspaces for their employees that are well-designed, include specialty accommodations, and encourage creative engagement. Steer away cubicles, drab furniture and neutral colors.
Instead, enlist the help of an interior designer, who can help your office be a representation of your company's brand and bolster the liveliness of the space. Make sure you provide an opportunity for employee input when designing the space, as that will enhance their work performance and dedication.
The post Tips To Keep Your Millennial Employees Committed and Engaged appeared first on Office Dynamics.