Anyone who has been in a leadership position for more than a day has made a mistake. Mistakes come with being human. Fortunately, they rarely do lasting damage, and ven the worst mistakes don't have to tarnish your reputation as a leader. Here are some powerful suggestions for things you can do to recover after a serious mistake:
Acknowledge the mistake. Own it. Don't pretend it didn't happen, don't make excuses, don't try to place the blame on anyone else. The important thing is to acknowledge it quickly before people make judgments about your competence or expertise. You need to get on top of it, get ahead of it, and deal with it. The sooner you acknowledge you've made a mistake and you accept the consequences, the more respect and support you will retain.
Communicate immediately. When a mistake happens, you have to let those who are affected know immediately. Don't let too much time pass—the longer you wait, the more difficult it becomes. Don't go into tedious detail, but let them know what happened, how it happened, and as much as you know about how you plan to make it right and keep it from happening again. By giving people advance notice, you can often manage the situation and avoid further damage.
Stop the bleeding. Whatever the circumstances, one of your top priorities should be to do everything you can to prevent further damage. If relationships are in danger, apologize quickly. If there are financial issues involved, recover as much as you can as quickly as you can. Look at every affected area and move to protect anything that the damage hasn't reached.
Next steps. Part of recovering from a deadly mistake is not letting your mistakes define you or make you afraid of taking chances again. Focus on solutions and don't allow things to fester or leave it for someone else to clean up your mess. Show those around you that they can count on your leadership even in the worst times. Do everything you can to steer the recovery toward the best possible outcome, then put it behind you and focus on the future.
Demonstrate that you've learned from the experience. Making a mistake is never a good thing, but very few things in life are 100 percent negative. Every mistake—even the worst—has something to teach us, and you can show up differently next time by showing that you've grown. If you're going to pay the price for the mistake, you might as well benefit from the learning that comes with it. Mistakes play a critical role in leadership development because they teach you how to deal with situations that don't go your way and they show you can change.
Lead from within: The most useful thing you can do is translate a deadly mistake into a valuable moment of leadership development.
---
N A T I O N A L   B E S T S E L L E R
The Leadership Gap: What Gets Between You and Your Greatness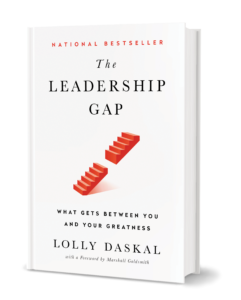 After decades of coaching powerful executives around the world, Lolly Daskal has observed that leaders rise to their positions relying on a specific set of values and traits. But in time, every executive reaches a point when their performance suffers and failure persists. Very few understand why or how to prevent it.
---
Additional Reading you might enjoy:

Photo Credit: iStockPhotos
The post How to Recover After a Deadly Leadership Mistake appeared first on Lolly Daskal.